Block MV SWG for air lines 6(10) kV coupling BKRU-SESH
Block MV SWG for air lines 6(10) kV coupling BKRU-SESH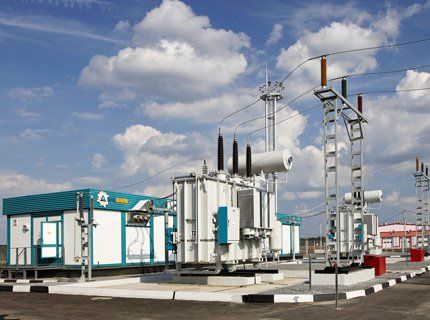 General Description
Block switchgear for coupling of air lines (BKRU-SESHCH) is an ideal solution for powering of equipment at cluster fields of oil producing companies. This solution also can be successfully used in distribution networks and other objects.

BKRU-SESH is designed for sectioning of air and cable lines with rated voltage 6 (10) kV with one and two-sided power supply, as well as providing such functions as:

automatic reclosing;
automatic reserve entry;
automatic restoration of normal mode;
division of sections of overhead lines.
BKRU-SESH consists of an electrical module with MV SWG inside it, such as KSO-298M, KSO-SESH or KRUS-SESH-75. The number of cubicles is from five to eleven. From each section of the switchgear there are up to 3 lines, it is possible to connect up to six consumers on one BKRU-SESH. The configuration of the BKRU-SESH provides independent switching-off of each of the sections of the switchgear.
High prefabricated. The module is transported fully assembled. The amount of installation work at the facility has been significantly reduced.
Ease of operation. The layout of the built-in BKRU-SESH equipment provides for the convenience of inspecting, repairing and dismantling the main equipment during operation without removing the voltage from the busbars and near feeders.
Staff safety. Conditions are ensured for the safe operation of maintenance personnel inside BKRU-SESH.
Convenience of supplying overhead lines. Power lines can be connected from either side and at any angle, regardless of the position of the BKRU-SESH.